The Institute for Energy Economics and Financial Analysis (IEEFA) today published a report describing how coal-to-gasification technology for electricity-generation purposes remains commercially unviable.
"Efforts to gasify coal for power generation have been major failures, technologically and financially," writes David Schlissel, the author of the report and IEEFA's director of Resource Planning Analysis. "Both Kemper and Edwardsport have been economic disasters for consumers and investors alike, and a number of important and painful lessons have emerged from Kemper and Edwardsport."
The report concludes further that coal-gasification technology is an especially poor bet today given the declining costs of solar and wind resources and the expectation that natural gas prices will remain low for the foreseeable future.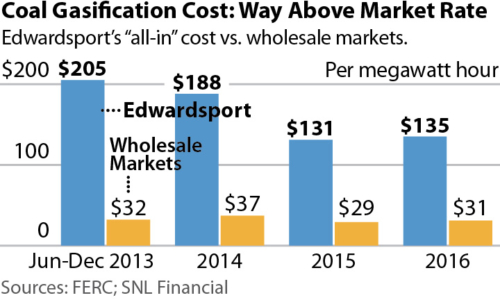 Among the report's findings:
Modern IGCC plants are far more expensive to build than proponents have been willing to publicly acknowledge.
Such plants take much longer to construct than proponents typically assert.
The sheer expense of operating an IGCC plant prevents makes them wholly uncompetitive.
IGCC plants have proven unreliable due to problems with modern coal-gasification technology.
The technology is not an economically feasible option for capturing and sequestering carbon dioxide emissions.
IGCC plants cannot compete with wholesale market power prices or with falling prices for wind- and solar-generated electricity.