Rising temperatures caused by climate change may cost the world economy over $2 trillion in lost productivity by 2030 as hot weather makes it unbearable to work in some parts of the world, according to U.N. research published on July 19, 2016.
It showed that in Southeast Asia alone, up to 20 percent of annual work hours may already be lost in jobs with exposure to extreme heat with the figures set to double by 2050 as the effects of climate change deepen.
Across the globe, 43 countries will see a fall in their gross domestic product (GDP) due to reduced productivity, the majority of them in Asia including Indonesia, Malaysia, China, India and Bangladesh, researcher Tord Kjellstrom said.
Indonesia and Thailand could see their GDP reduced by 6 percent in 2030, while in China GDP could be reduced by 0.8 percent and in India by 3.2 percent.
He said the increasing need for rest "is likely to become a significant problem" as climate change makes the hottest days hotter and leads to longer periods of excessively hot days.
...
Kjellstrom authored one of six papers on the impact of climate change on health that were put together by the United Nations University's International Institute for Global Health in Kuala Lumpur and published in the Asia Pacific Journal of Public Health.
Kjellstrom warned that the lowest-paid workers - those in heavy labour, agricultural and manufacturing - were most at risk of exposure to extreme heat.
...
The other papers in the series showed around 2.1 million people worldwide died between 1980 and 2012 due to nearly 21,000 natural catastrophes such as floods, mudslides, extreme heat, drought, high winds or fires. In Asia Pacific, 1.2 billon people have been affected by 1,215 disasters - mostly flood, cyclones and landslides - since 2000.
In April, 175 countries signed a Paris climate deal to restrain the global rise in temperatures to "well below" 2 degrees Celsius (3.6 degrees Fahrenheit) above pre-industrial levels.
The first three months of 2016 have broken temperature records and 2015 was the planet's warmest year since records began in the 19th century.
by Beh Lih Yi | @BehLihYi
Thomson Reuters Foundation, the charitable arm of Thomson Reuters, that covers humanitarian news, women's rights, trafficking, property rights and climate change. Visit
http://news.trust.org
)
19 July 2016
The paper "Impact of Climate Conditions on Occupational Health and Related Economic Losses: A New Feature of Global and Urban Health in the Context of Climate Change" by Tord Kjellstrom, PhD, MMeng of Lund University, Lund, Sweden; Health and Environment International Trust, Mapua, New Zealand; Australian National University, Canberra, Australia and University College London, London, UK is available at the Journal's website
http://aph.sagepub.com/
at
http://tinyurl.com/j9f6o8q
.
"Soaring Temperatures Will Make It Too Hot to Work, UN Warns" by Jessica Shankleman which appeared on Bloomberg.com at
http://tinyurl.com/jeuqy5c
on July 18, 2016 noted that
As many as 43 countries, especially those in Asia, including China, Indonesia, and Malaysia, will experience declines in their economies because of heat stress, says . As a result, China's gross domestic product would be reduced 1 percent and Indonesia's by 6 percent by 2030.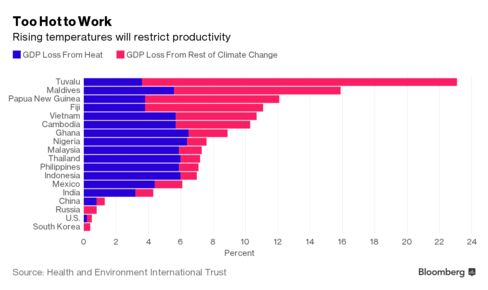 Extreme heat in Southeast Asia already curbs annual working hours by 15 to 20 percent, and that figure could double by 2050 as climate change progresses, according to the paper published in Asia-Pacific Journal of Public Health on Tuesday.
The study was one of six papers published by the UN university in Kuala Lumpur detailing the impact of climate change on human health. From 1980 to 2012, it said about 2.1 million people worldwide died as a direct result of almost 21,000 natural catastrophes such as floods, mudslides, extreme heat, drought, high winds or fires. The cost of those disasters exceeded $4 trillion, a sum comparable to the current GDP of Germany.
In 2030, in both India and China, the GDP losses could total $450 billion, Kjellstrom said. The impact could be reduced by making major shift in working hours and changing how new factories are built to require less power to cool.
Demand for air conditioning in offices, shopping malls and homes is likely to soar as temperatures rise, placing a strain on power supplies, according to the paper. A city the size of Bangkok may require as much as 2 gigawatts of generation for each increase of 1 degree Celsius in temperature, the study concluded.